"One of the few comprehensive programs that focus on conversation, grammar, vocabulary, reading, and writing."
– Nancy Matsumoto, The Wall Street Journal

"One of the best language applications on the iPhone."
– Zohreen Adamjee, L.A. Times
Tokyo Favorite Places: Mount Takao
Located about an hour by train from downtown Tokyo, Mount Takao, or Takao-san in Japanese, is one of the most accessible hiking spots from the big city. It's very popular with young and old alike, who flock there for its pretty trails, monkey park, temple complex, and more.
Quick nav
Photos
Getting off the train at Takaosanguchi. Everyone is suited up and ready to go hiking!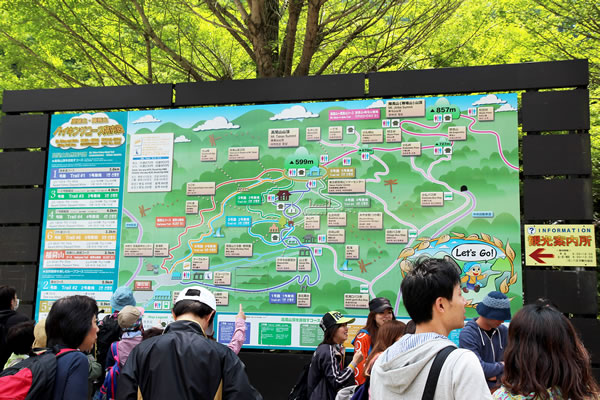 You'll know you're in the right place if you see this large map upon exiting the station. The same map is also available online.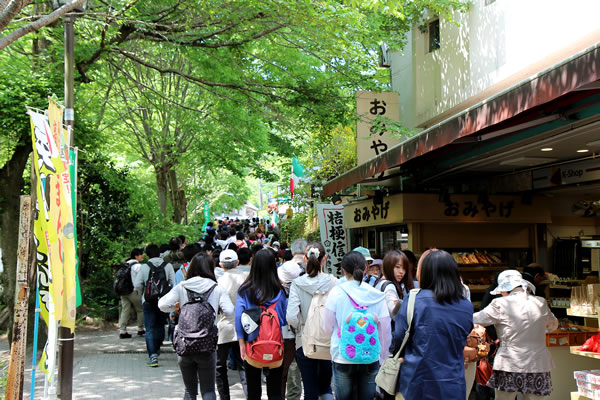 It's about a five minute walk from the train station to the trailhead. On the day we visited, a local school was having a field trip here, which is why it's so crowded. Normally, it's not quite this busy.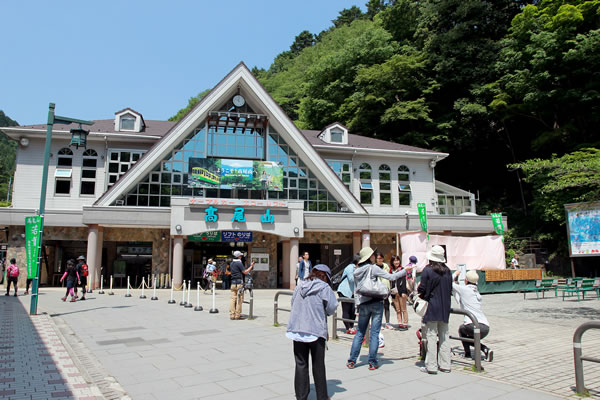 From the base of Mt. Takao, there are essentially two legs to your journey. You can hike the first leg (about 60 minutes of moderate ascent on a paved path), or take a cable car or chair lift from this building, either of which will take you to the same location about halfway up the mountain. From there, it's a further 60-minute walk up a moderate path (paved and including stairs at points) to the summit.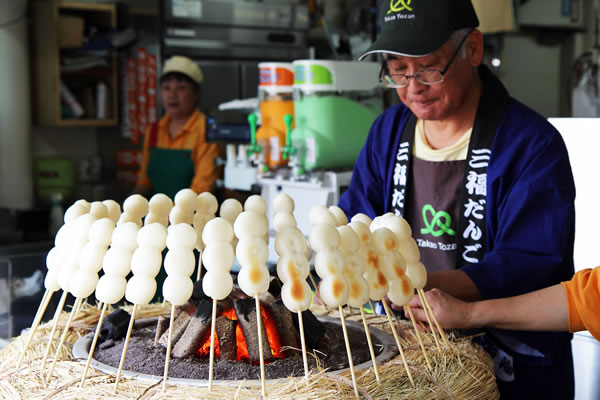 Near the upper end of the cable car and chair lift lines, you'll find this shack selling dango—mochi balls on a skewer, brushed with a walnut miso sauce. Your friendly author is not usually a huge fan of mochi, but after the hike from the base, these tasted fantastic.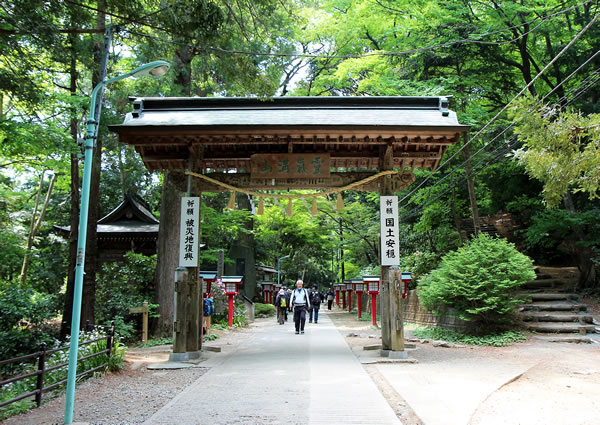 One of the most striking things about Takao-san is Yakuōin Yūkiji, a mountainside temple complex that starts at this torii. Its temple and shrine buildings are strung along several levels of winding paths and stairways. (Note that temples are Buddhist and shrines are Shinto—just remember that the "sh" words go together to keep this distinction straight—but Japanese don't consider these religions to be mutually exclusive, and Buddhist temples often contain Shinto shrines within them.)
This temple is believed to date back to about 744 CE. Despite calamities such as fires and typhoons, 2500 historical documents have been preserved in the complex and provide a valuable window to the past.
The main trail up the mountain runs directly through this historic temple. Onward ho!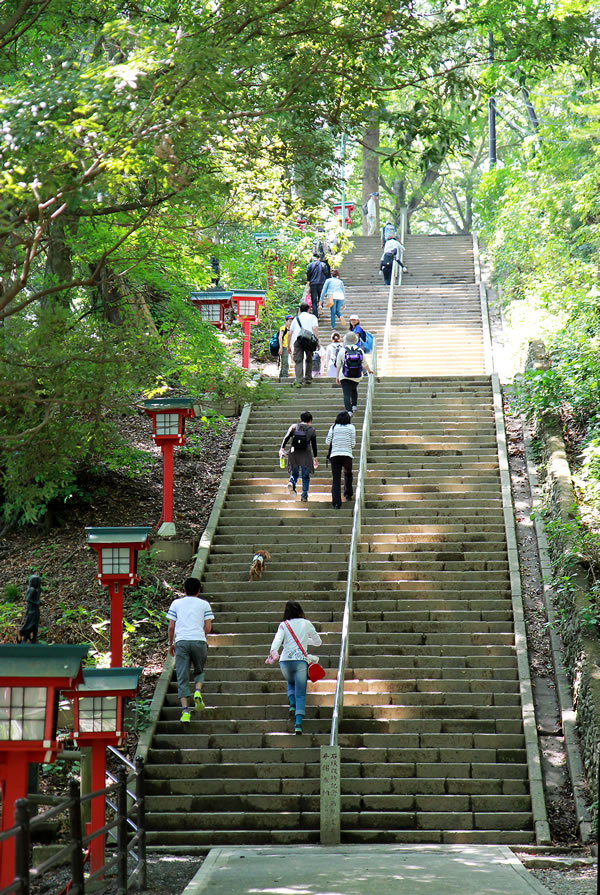 The complex consists of a series of buildings connected by winding paths and stairways.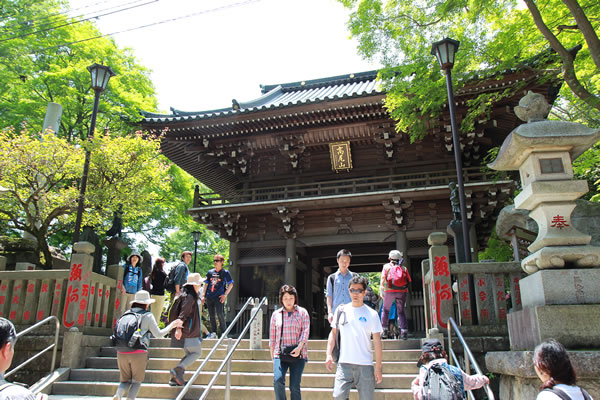 Approaching the main temple building.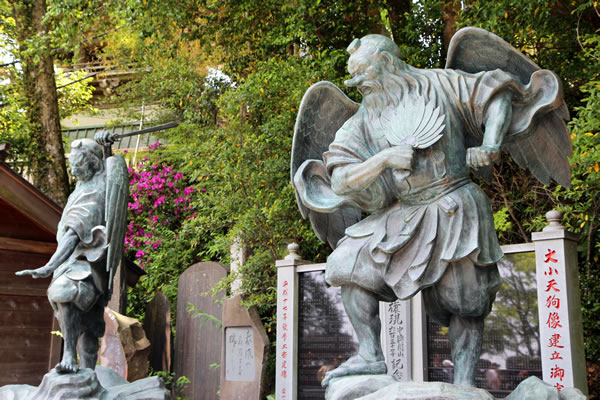 The guy with the long nose here is a tengu, a legendary spirit creature who is supposed to inhabit mountains and forests.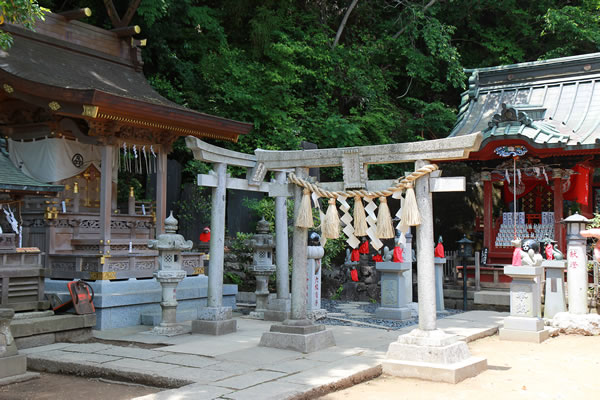 Two small Shinto shrines within the temple complex.
Approaching the top of the mountain.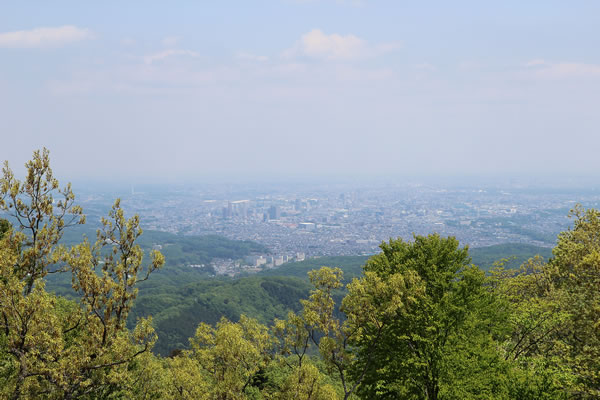 Looking back in the direction of Tokyo from the summit.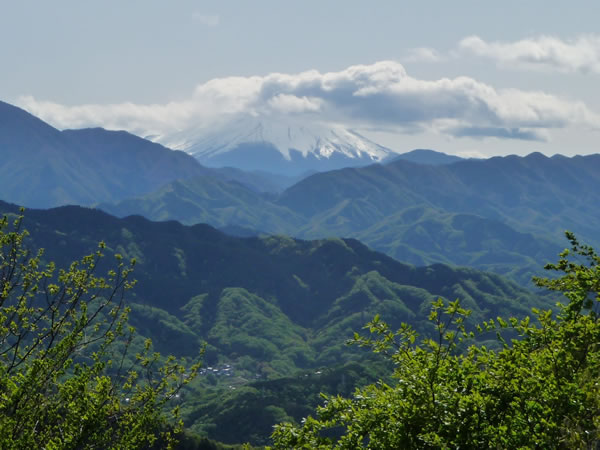 Photo: Asteiner, Creative Commons BY-SA 3.0
On clear days, you can see Mt. Fuji from here.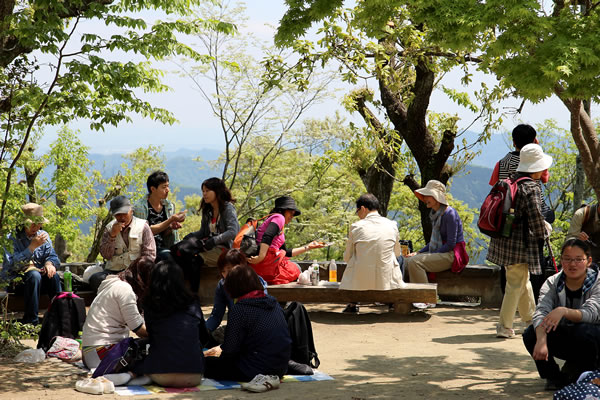 At the top of the mountain, people spread out picnic blankets and enjoy their packed lunches.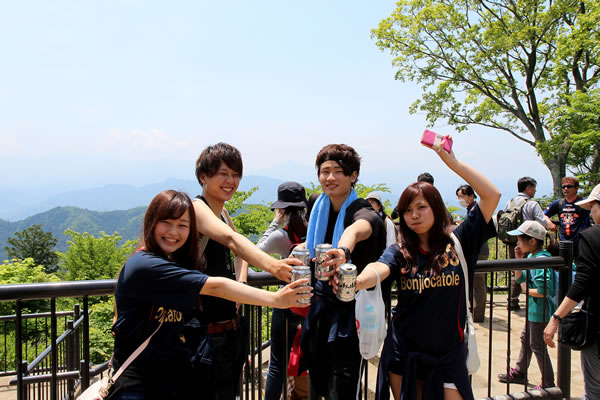 It's a fun atmosphere up top.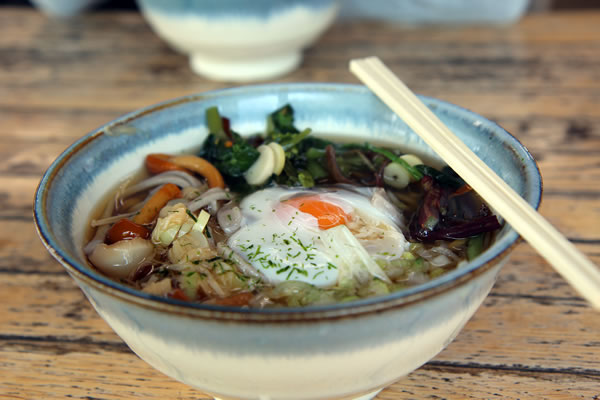 If you didn't bring a lunch, small restaurants offer simple fare such as this soba bowl. (Note that depending on the day or season, the vendors can close, so it's a good idea to bring a snack just in case.)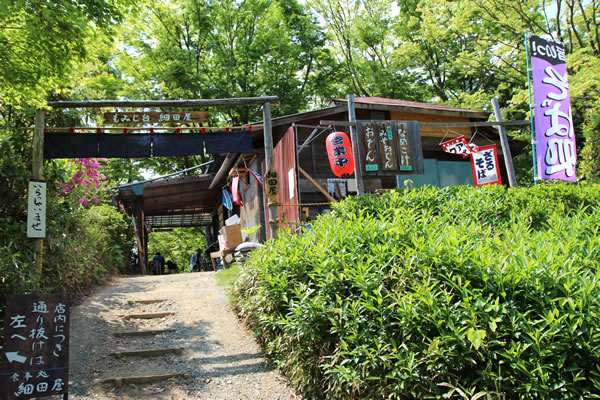 For slightly smaller crowds, follow the signs 10 minutes further along the trail toward Momiji-dai.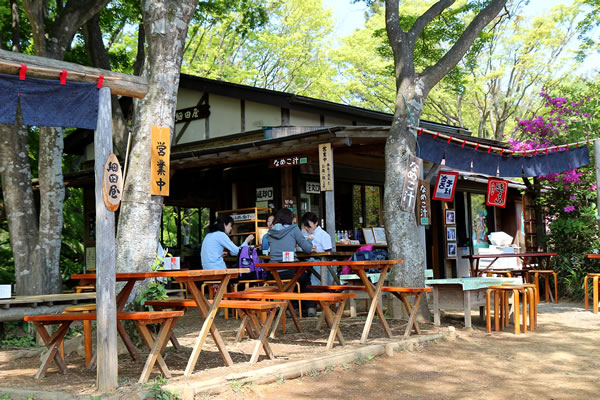 If you're used to hiking in wilderness, seeing vendors at various points on the mountain can be a little surprising. But there's also something undeniably refreshing about being able to cool off with an ice cream bar as you enjoy the scenery on a hot day.
From the top of Mt. Takao, it's possible to continue on to neighboring Mt. Jinba, about 18 km away. We did this hike and found it to be pleasant if not stellar, but please note that we would only recommend it for very strong hikers who are well-equipped and have confidence in their Japanese, as there are significantly fewer people further down the trail, many signs have no English, and you will need to take a once-per-hour bus back from the other end. If you think you're up to it, stop at the visitor's center near the summit of Mt. Takao to get a topographical map and bus schedule.
For most visitors, we recommend that you turn around from the top of Mt. Takao and take a different one of the six main trails on the way back, perhaps stopping at the Monkey Park to see the Japanese macaques.
Mount Takao is a great place to stretch your legs and lungs that people of all ages can enjoy.
Video
Getting there
You'll be taking the Chūō Line all the way out to Takao Station, which is a good 31 stops from Tokyo Station, so it's a good idea to consult a timetable and catch a rapid train. From Takao Station, you'll need to switch to the Keiō Takao Line toward Takaosanguchi Station, which is just one stop down the line.
Get off at Takaosanguchi Station. Once you come out to the street, you should see a big billboard with maps of Mount Takao trails on it. Turn to your right here and follow the walkway in a southwesterly direction for about three minutes and you'll arrive at the base of Mt. Takao.
Map
Language resources
Remember, you'll enjoy your trip the most if you have some basic Japanese under your belt. Download a free trial of Human Japanese if you're just getting started or Human Japanese Intermediate if you have a foundation and want to go to the next level. We think you'll love our approach.
Best wishes on your journey! Be sure to check out our other favorite places by using the links at the top right of this page.