"One of the few comprehensive programs that focus on conversation, grammar, vocabulary, reading, and writing."
– Nancy Matsumoto, The Wall Street Journal

"One of the best language applications on the iPhone."
– Zohreen Adamjee, L.A. Times
Tokyo Favorite Places: Skytree to Asakusa
The Skytree, Tokyo's monumental new tower, is a fun destination it its own right, and a great place to start a pretty walk to nearby Kaminari-mon, or Thunder Gate. Let's take a look!
Quick nav
Photos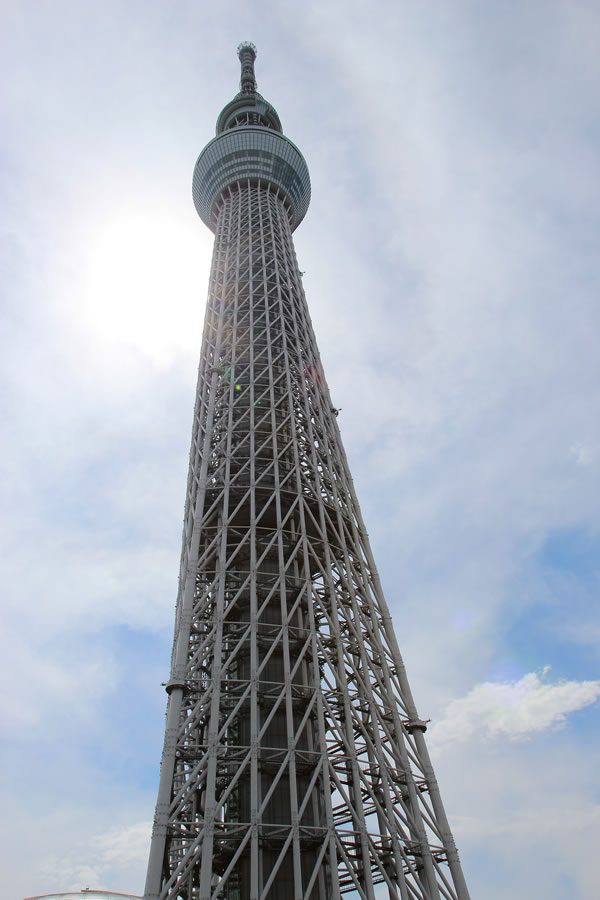 Completed in 2012, the Skytree towers above the Tokyo skyline at 634 meters in height. Observation decks at 350 and 450 meters are unrivaled for sheer altitude, and they're certainly the main draw for locals and visitors alike. Besides the tower itself, the complex also includes shopping, restaurants, a TV studio, a planetarium, and an aquarium, so depending on your interests, there's a lot to see and do right here.
As a side note, if you're traveling on a budget, the lines are very long, or the weather looks sketchy and you don't want to risk the price of admission (about 3000 yen per person), you might be interested in other options for great views. While nothing in Tokyo will get you quite as high as the Skytree, the often-overlooked Tokyo City Hall is completely free and frequently has no lines at all.
However, if you've got clear weather and the budget for it, it'd be hard to find a better view of the Tokyo area than from 450 meters up.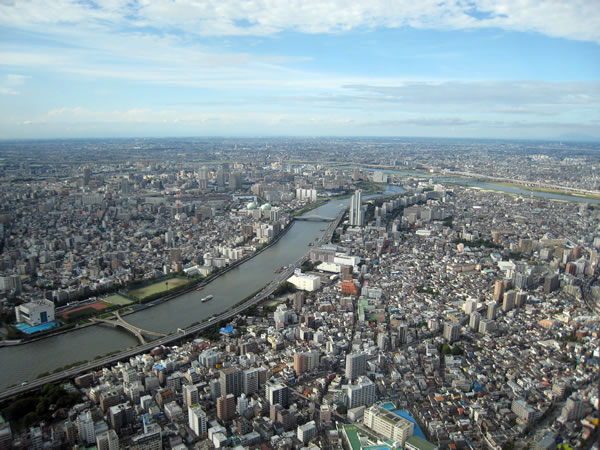 Photo: Biliana Nikolova-Lefterova, Creative Commons BY-SA 4.0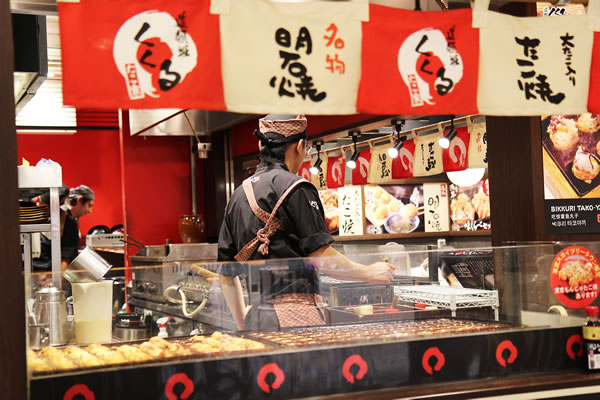 Grab a quick bite before your walk inside the Skytree complex. Takoyaki, anyone?
Exit the Skytree to the south and you'll come out to the street by the side of a pretty canal. Turn to your right (west) and follow the canal for a few blocks. At the next signal, you'll have to depart from the canal for a few blocks. (See map below.)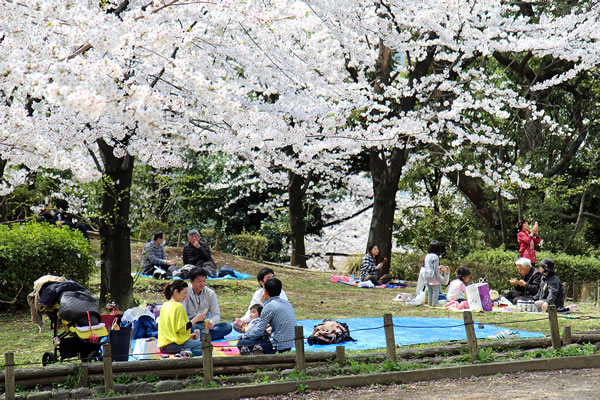 After a few minutes, you'll come to Sumida Park, a popular spot during hanami, or cherry blossom viewing.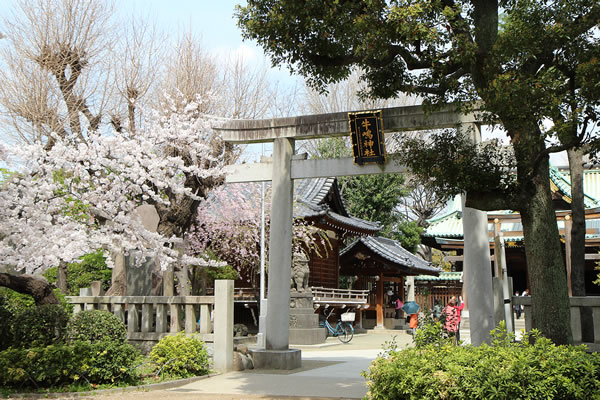 Sumida Park is home to Ushijima Shrine, established in 860 CE.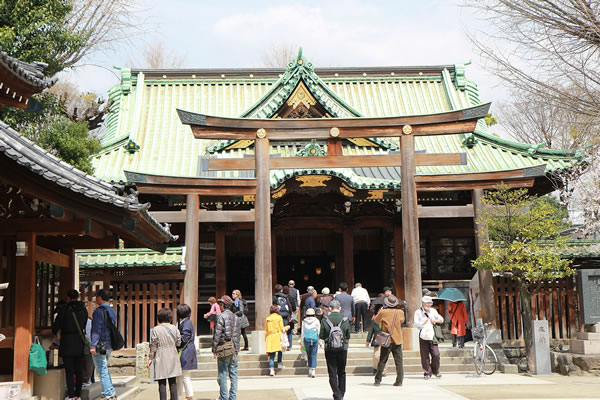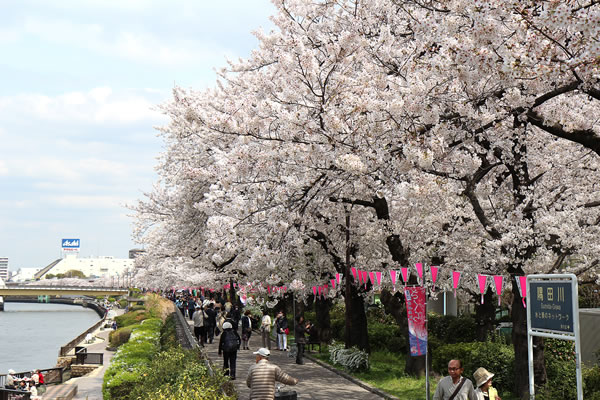 After departing the park, you'll cross a street and find yourself alongside the Sumida River. The pleasant walkways here are often home to festivals, such as this one.
The text on the lanterns reads sakura matsuri, "cherry blossom festival."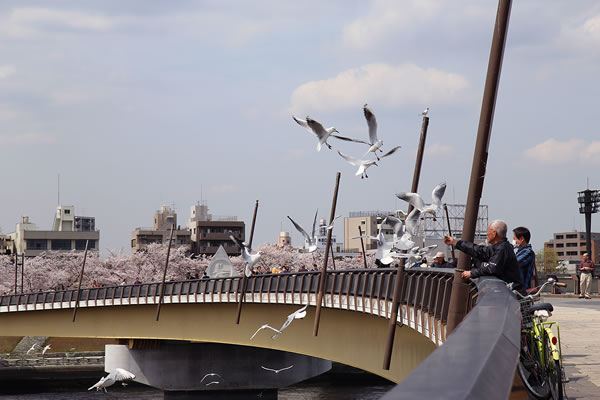 Cross the pedestrian-only Sakura-Bashi.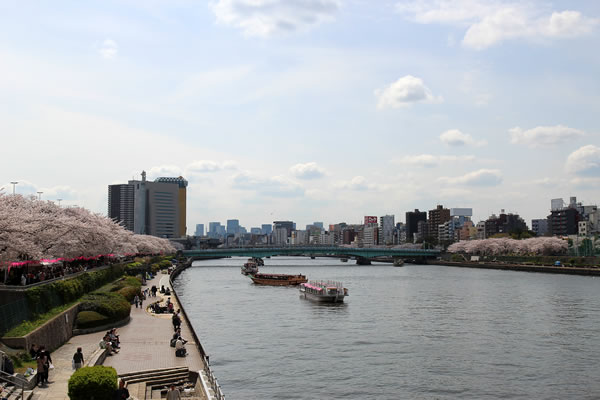 Looking back down the Sumida River. We came up from the left side in this photo and we'll be continuing down the right side after crossing.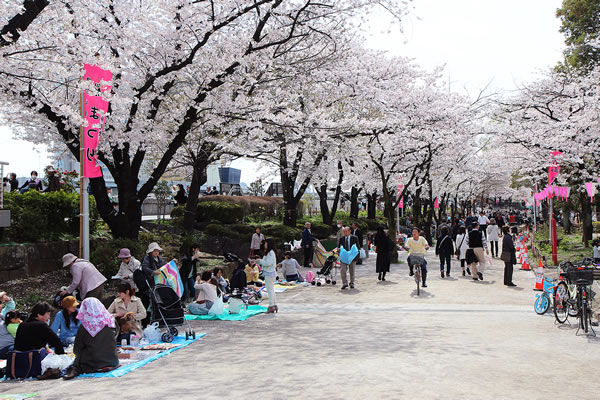 Heading toward Kaminari-mon on the west side of the Sumdia River. People spread picnic blankets up and down this stretch of park during hanami. Sometimes you'll see a lone sarariiman sitting in the middle of a giant tarp. Companies often send the new guy or intern to stake out a good spot in the morning for an office party later that afternoon.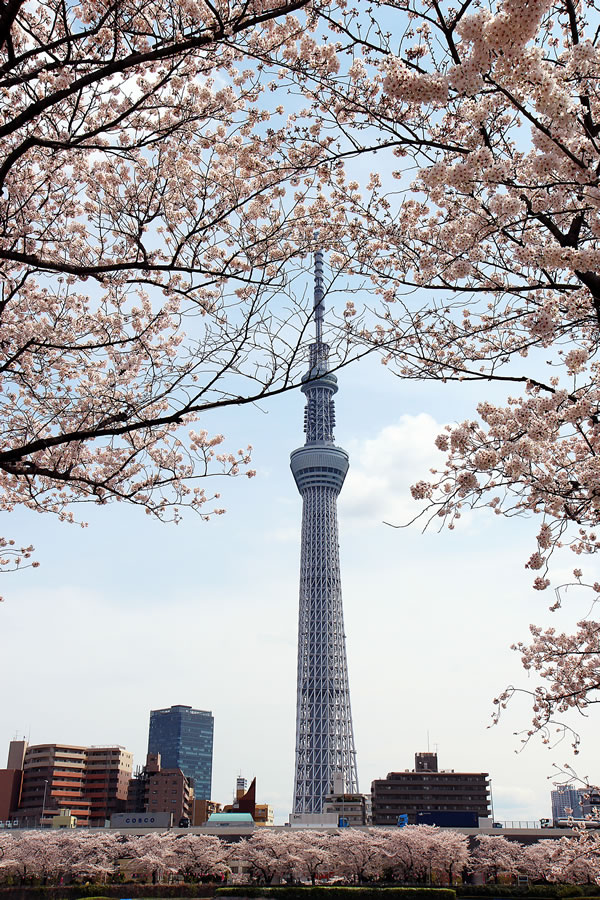 This walk offers great views of the Skytree.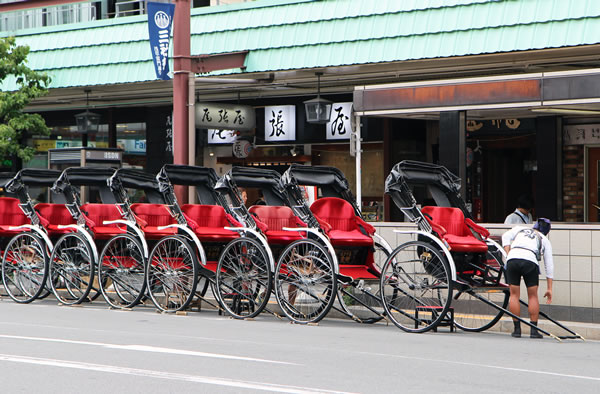 You're now approaching the Asakusa neighborhood, a historic part of the city. Rickshaw drivers ply the streets by the dozens here.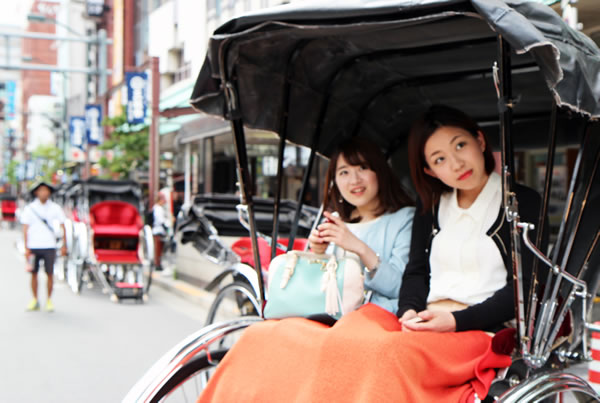 There's no need to feel like an embarrassed tourist if you choose to take a ride in a rickshaw (Japanese: jinrikisha). Most of the riders we saw were Japanese. It can be a fun way to quickly get your bearings.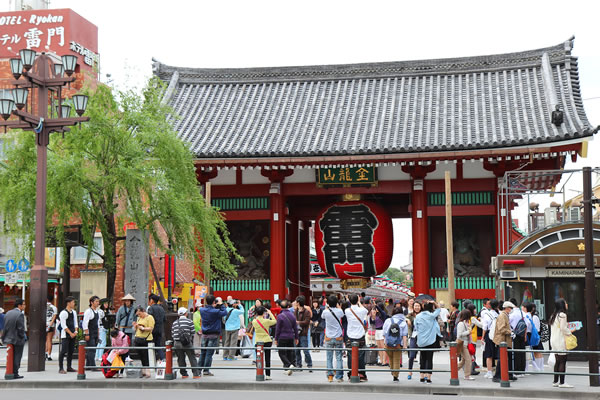 The famous Kaminari-mon, or Thunder Gate, dominates the entrance to Sensou-ji, a Buddhist temple that dates back to 645 CE.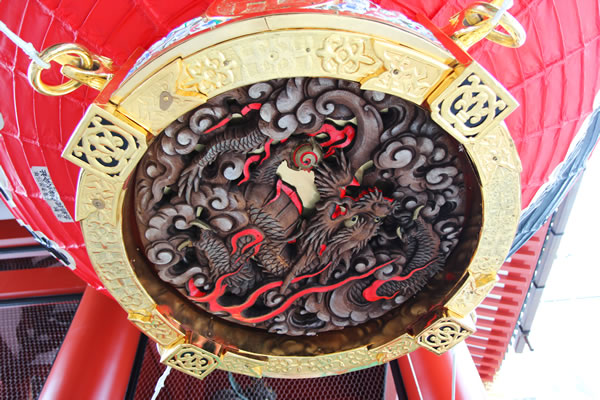 Be sure to look up as you pass under the massive paper lanterns.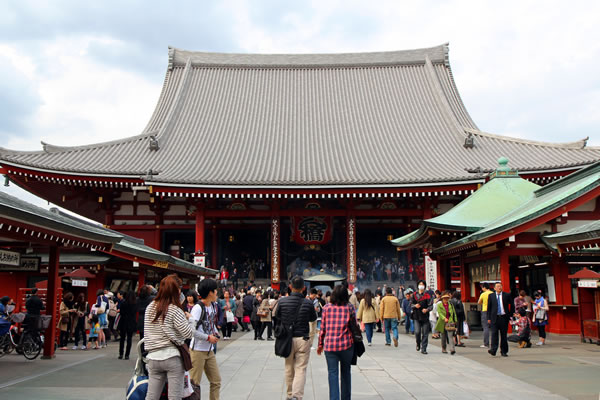 Approaching the main temple building.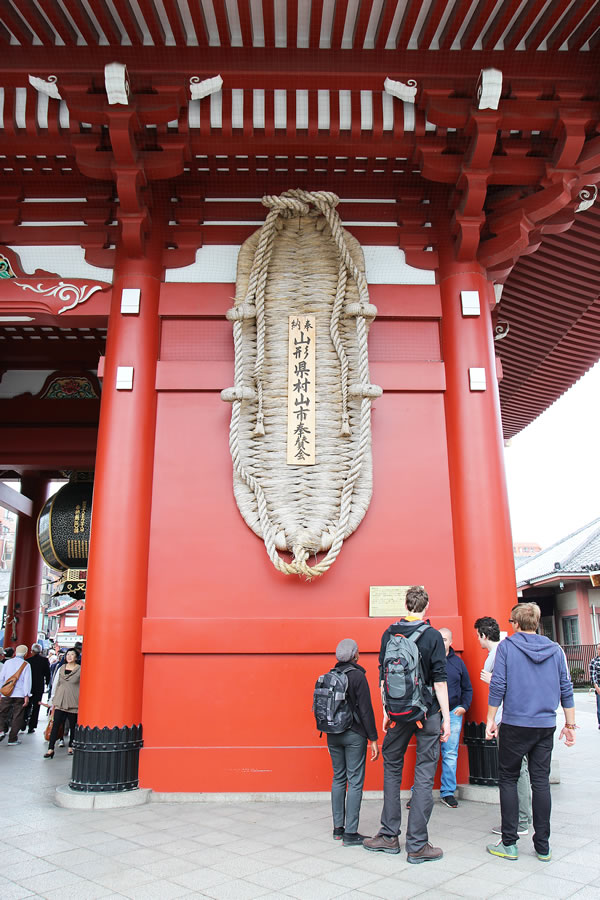 This giant straw sandal is said to belong to Niō-sama, who guards temples.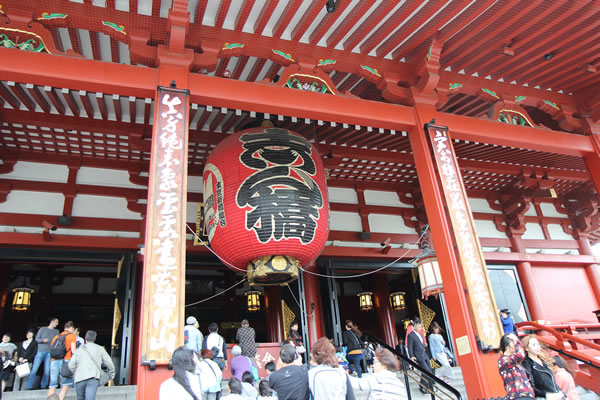 The entrance to the main temple building.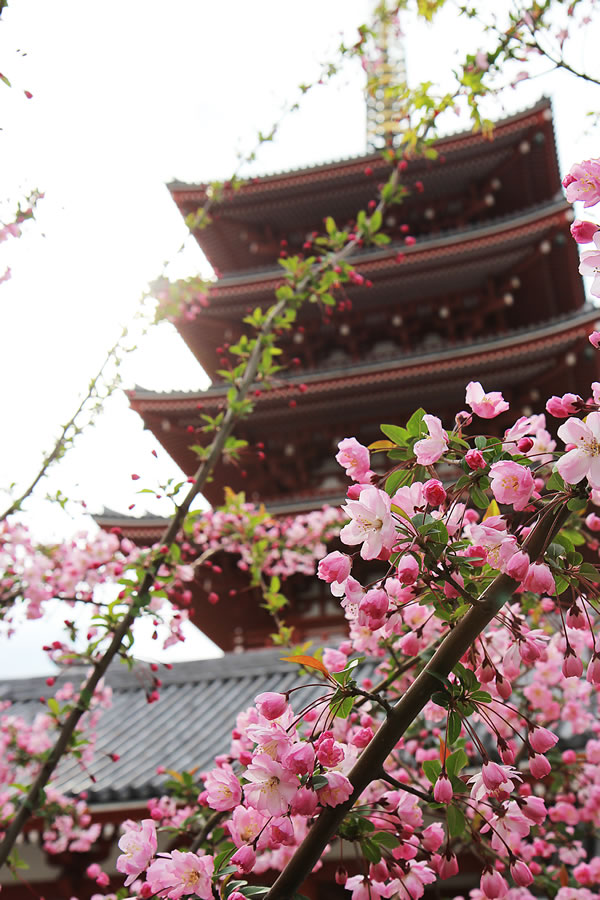 Within the same complex is this Shinto shrine.
Important notes
Some hotels and travel agencies are able to purchase advance tickets to the Skytree for their customers, so you might ask your concierge or travel agent about that. If you have a friend in Japan, it's also possible to reserve tickets in advance through this all-Japanese web site, but only if your credit card was issued in Japan. So for most people, the only option is simply to show up, stand in line, and buy tickets then and there.
Also, be aware that the tower closes to visitors during high winds. If it happens to be closed when you visit, you can always try the Tokyo City Hall, which is free and usually has short lines.
Video
Getting there
To do our walk, you'll need to start at the Skytree. While there is a Tokyo Skytree Station (stop TS-02 on the Tobu Skytree Line) that you should take if convenient, depending on where you're coming from, it can be easier (fewer transfers) to go to nearby Oshiage Station instead.
Oshiage Station is served by:
The Toei Asakusa Line (stop A-20)
The Hanzōmon Line (stop Z-14)
The Keisei Line (stop KS-45)
Simply follow the signs inside the station to the Skytree. If you have any trouble, just ask someone (see the Useful Phrases section below), or exit to street level and you'll have no trouble finding it.
Map
Language resources
Remember, you'll enjoy your trip the most if you have some basic Japanese under your belt. Download a free trial of Human Japanese if you're just getting started or Human Japanese Intermediate if you have a foundation and want to go to the next level. We think you'll love our approach.
Best wishes on your journey! Be sure to check out our other favorite places by using the links at the top right of this page.