"One of the few comprehensive programs that focus on conversation, grammar, vocabulary, reading, and writing."
– Nancy Matsumoto, The Wall Street Journal

"One of the best language applications on the iPhone."
– Zohreen Adamjee, L.A. Times
Tokyo Favorite Places: Odaiba
Odaiba feels like a seaside town just a hop and a skip from central Tokyo. Take a walk on the boardwalk, check out the replica of the Statue of Liberty, peruse the shops, explore a historic artificial island, and perhaps ride to the top of the Fuji Television sphere. It's all waiting for you in this fun leisure area.
Quick nav
Photos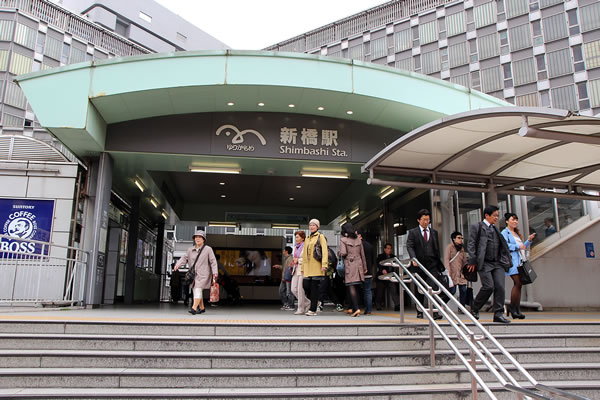 Located across Tokyo Bay from the city center, most visitors will take the elevated Yurikamome train, which is a fun trip in itself. The easiest place to catch the Yurikamome is from Shinbashi Station.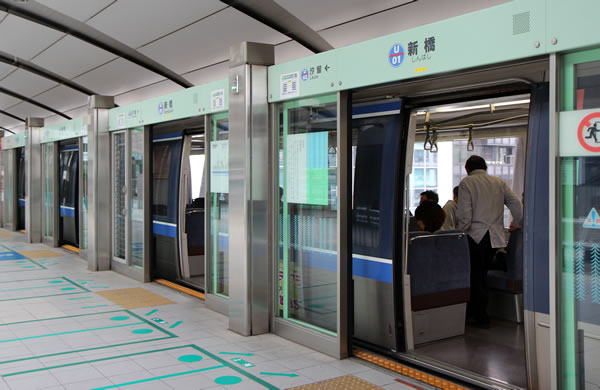 The Yurikamome Line starts at Shinbashi Station, so there's no, provided you've made it to the Yurikamome platform, there's need to worry whether you're pointed in the right direction, Hop onto the first available train and you're all set!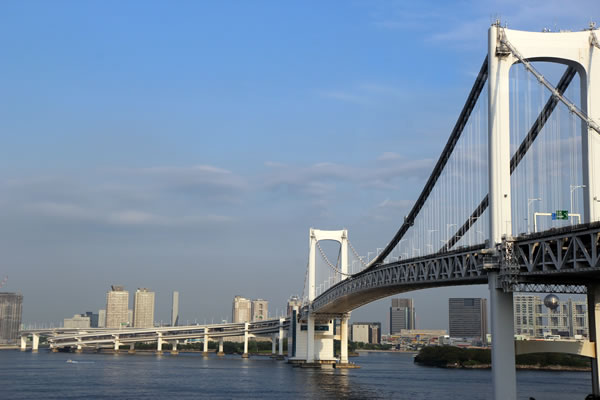 Crossing the Rainbow Bridge (レインボーブリッジ).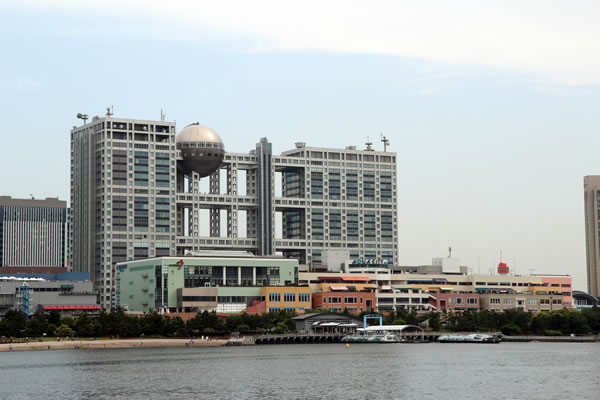 The main waterfront area, with the unique Fuji Television Studios building in the background.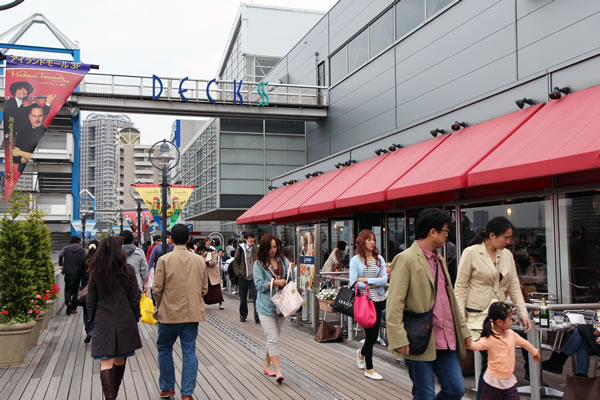 Odaiba feels like a seaside town. Stroll along the boardwalks, have a bite to eat, and enjoy the sea breeze.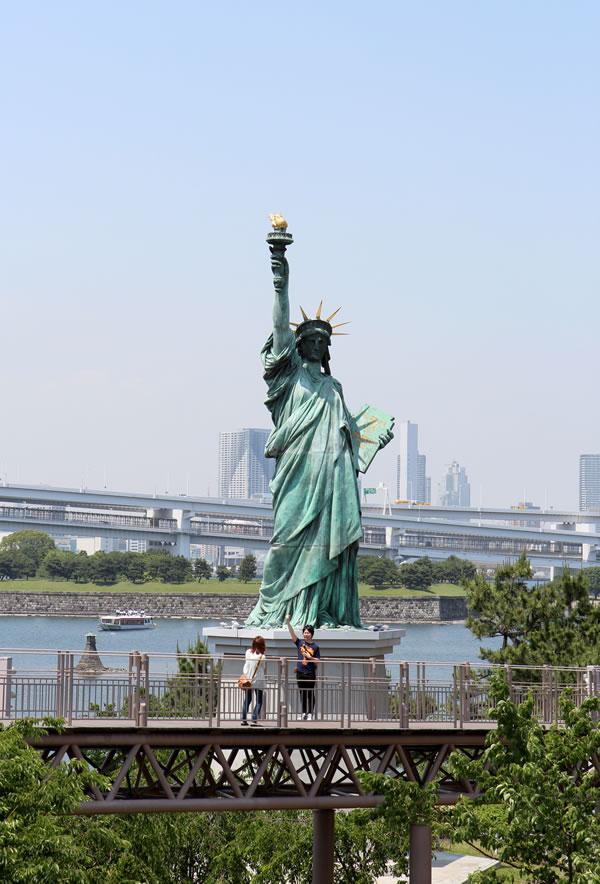 Yes, that is a replica of the Statue of Liberty, and yes, every single person who has ever set foot in Odaiba has taken this exact photo in front of it.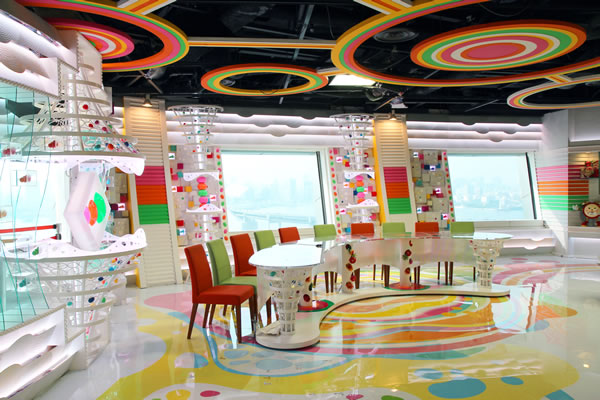 The inside of the sphere in the Fuji Television Studios building is used for a morning TV show called Mezamashi Terebi ("Wake-Up TV").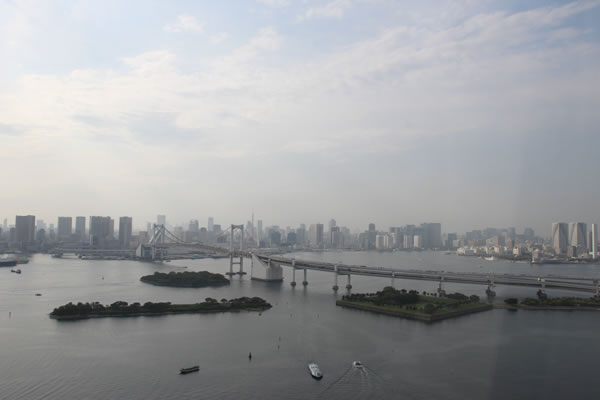 From the sphere, you can enjoy sweeping views of Tokyo. Note the two square-ish islands near the bridge. These were artificially constructed, as was the entire Odaiba area.
The name Odaiba comes from the word daiba, which means "emplacement," as in a battery for canons. As late as the 1850s, Japan had almost zero contact or trade with the rest of the world. Japanese were not allowed to leave the country, nor were foreigners allowed to enter. This period, lasting from the 1630s through the 1850s, is known as sakoku—"chained country."
In 1853, US Commodore Matthew Perry showed up in Tokyo (then called Edo) Bay with a fleet of powerful ships and demanded under threat of overwhelming force that Japan open up to trade with the United States. To demonstrate the consequences of refusal, he destroyed a few buildings on the shore with his ships' canons. Having delivered his terms, Perry left, promising to come back for an answer the next year.
The Japanese government was understandably shaken by this and ordered the construction of eleven artificial islands to protect Edo from attack by sea. These daiba would be outfitted with canons, gunpowder stores, and barracks.
Construction proceeded at fever pitch, and five daiba were completed before the return of Perry the following year. They seem to have done their job, as Perry turned around upon seeing them and landed at Yokohama instead.
Of the eleven planned daiba, seven were either partially or fully completed. Over time, some were taken away to make room for shipping lanes, and others were incorporated into larger artificial land projects.
Today, two such batteries remain essentially in their original form. One, Daiba Number 6, has been left to nature. The other, Daiba Number 3, is connected to the Odaiba leisure area via a jetty and you can walk out to explore it.
(See the video below for other shots of Daiba Number 3.)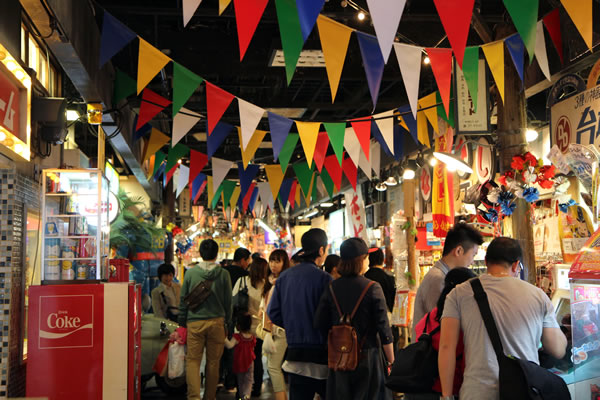 Odaiba is comprised of a series of different mall-like buildings. One fun attraction is this retro shopping center and arcade, in the Decks Odaiba building. (More shots in the video below.)
Neighboring Joypolis offers more modern amusement rides, as well as some low-tech classics. One of our favorite parts of Joypolis was a series of interactive haunted house-style adventures where an actor would accompany you as your guide. In one such attraction, it seemed that an abandoned hospital was experiencing an alarming number of mysterious murders, and your help was needed to document various pieces of evidence using the provided cameras. The presence of a human guide made humor and misdirection possible, adding a really fun dimension. Of course, to get the most out of these attractions, you'd need to understand Japanese, but even a little would go a long way.
Joypolis is a little on the spendy side. For shorter lines and less expensive admission, you might want to consider visiting on a weekday evening. Admission and other details here.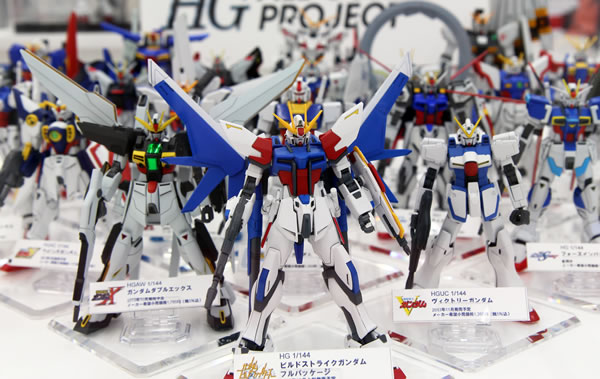 Gundam Front, located in the Diver City Tokyo building, has a huge collection of models to admire...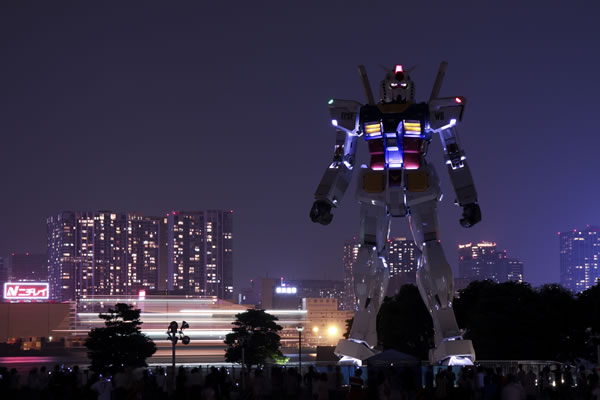 ...and a massive full-scale "replica" out front.
Other things to do in Odaiba include: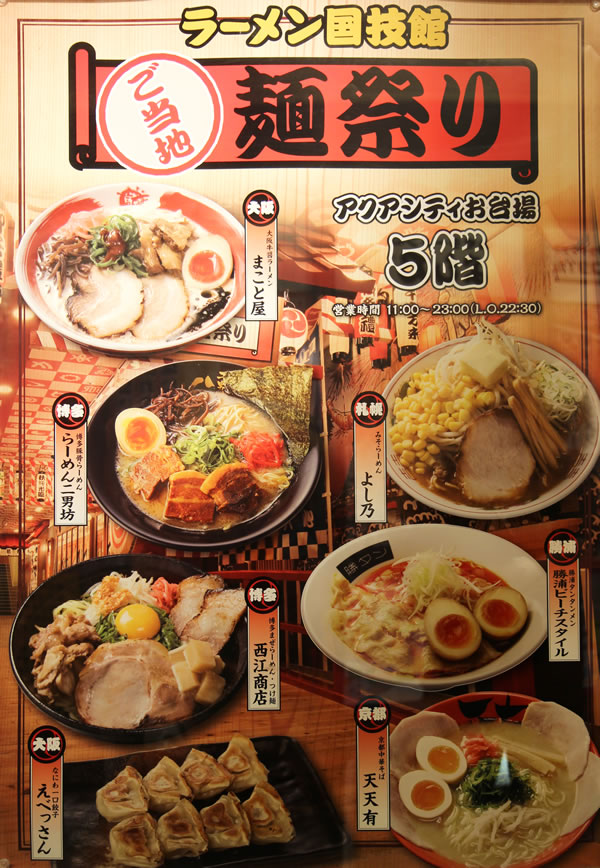 You certainly won't face a shortage of food in Odaiba. This poster sits at the entrance to a food court-like collection of restaurants in the Aqua City building that calls itself the "Ramen Arena," where ramen styles from all over Japan duke it out. We regretted that we had only one stomach to lend to the battle.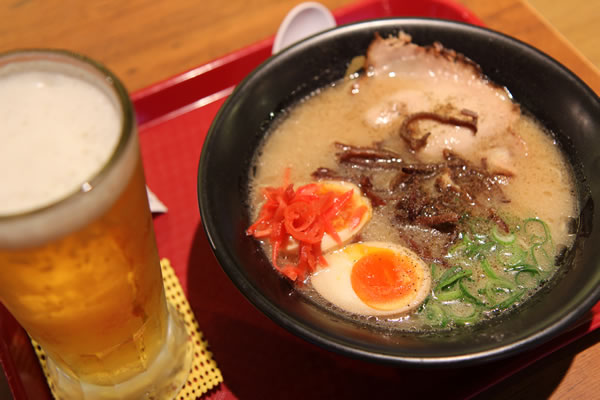 Hakata tonkotsu ramen, based on a salty pork-bone broth, is so good it will make you weep for not having known it sooner in life.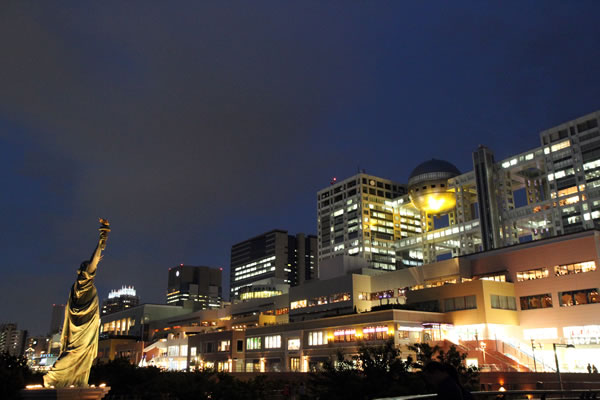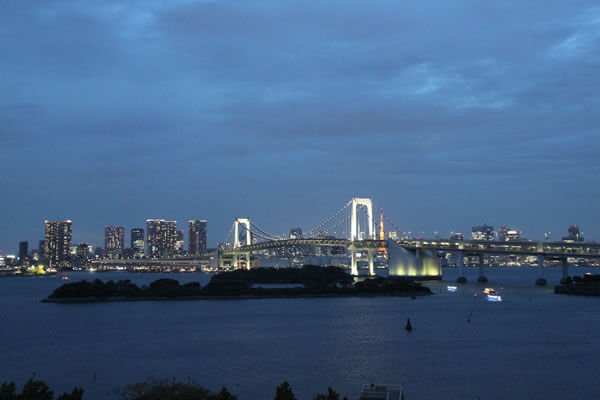 Take a final look back across the bay before heading home.
Video
Getting there
From central Tokyo, it's usually easiest to take the elevated Yurikamome Line. This line starts at Shinbashi Station, which you can easily get to via:
The JR Yamanote Line
The Asakusa Line (stop A-10)
The Ginza Line (stop G-08)
From Shinbashi Station, look for signs directing you to New Transit Yurikamome. The Yurikamome is on its own set of tracks and operated independently, so you'll need to exit the turnstiles for JR and buy a new ticket here.
Since the Yurikamome Line starts at Shinbashi, you don't need to worry about direction of travel if you can just find the Yurikamome platform, which has trains leaving from both sides of it. Take the first train from here and you're on your way!
If you'd rather see the beachfront and Daiba Number 3 first, get off at stop U-06, Odaiba-kaihinkouen. If you'd rather explore the boardwalk, shopping, and restaurants first, use stop U-07, Daiba.
Map
Language resources
Remember, you'll enjoy your trip the most if you have some basic Japanese under your belt. Download a free trial of Human Japanese if you're just getting started or Human Japanese Intermediate if you have a foundation and want to go to the next level. We think you'll love our approach.
Best wishes on your journey! Be sure to check out our other favorite places by using the links at the top right of this page.