Japanese, presented in a language you can understand.
Introducing Human Japanese Intermediate.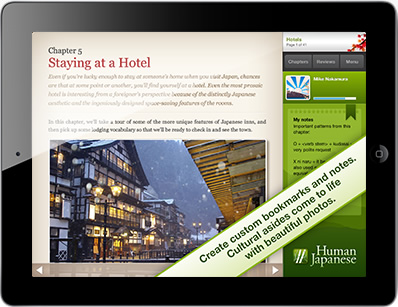 "One of the best language applications on the iPhone."
– Zohreen Adamjee, L.A. Times

"One of the few comprehensive programs that focus on conversation, grammar, vocabulary, reading, and writing."
– Nancy Matsumoto, The Wall Street Journal
So, you want to learn Japanese. Good news—you've come to the right place. Human Japanese is software for your PC, Mac, iPhone, iPad, Android, or Windows Phone that teaches the Japanese language from square one in a warm and engaging tone.
Featuring thousands of recordings, crystal-clear, down-to-earth explanations, intelligent quizzes and reviews, animations of hiragana, katakana and kanji characters, and much more, Human Japanese is everything you need to get started, brush up, or take your Japanese to the next level.
Learn more about what makes Human Japanese special by selecting a product below.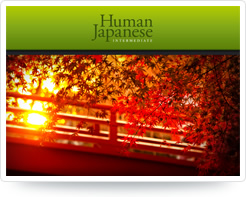 Human Japanese Intermediate